About
Fly For The Culture is creating a new paradigm and a new culture around aviation. A culture of diversity and inclusion that enhances the flying experience for all those who wish to soar amongst the clouds.
Founder & CEO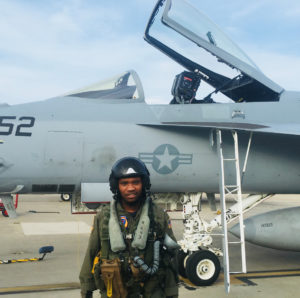 Courtland Savage is the founder of Fly for The Culture, a 501(c)(3) nonprofit organization that focuses on promoting diversity within the aviation industry.
Before devoting his work to Fly for The Culture, Courtland served his country as an enlisted Air Force Reserve Crew chief on the C-17 Globemaster in Charleston, SC and as an Officer in the U.S. Navy where he flew the F/A-18 Super Hornet as a Winged Naval Aviator. Prior to serving his country Courtland became a license pilot at the age of 17, as a senior at East Gaston High School in his hometown of Mount Holly, NC. Throughout his military career, Courtland experienced a significant lack of diversity, especially as an aviator. This experience fueled his desire to establish Fly for The Culture, an aviation culture which is for everyone.
Courtland is now a regional airline pilot, based in Raleigh, NC flying on behalf of United Express and Delta Connections. When Courtland isn't flying or managing Fly for The Culture, he enjoys traveling to new places, networking, socializing, and finding a enjoyable series to watch on Netflix
How We're Helping
We are a 501(c)(3) tax exempt status nonprofit organization focused on promoting diversity & inclusion within the aviation industry, by providing introductory flights. Participants will experience a  general aviation flight with a licensed pilot in a Cessna 172 or similar aircraft. Fly For The Culture will also provide mentorship for those who want to pursue a career in the aviation industry.
Our Inspiration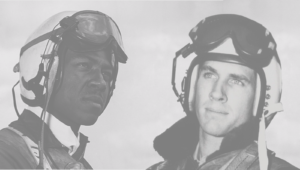 The inspiration for Fly For The Culture is the friendship of two young men during the Korean War: Jesse Brown and Thomas Hudner. Their story epitomizes the kinship, sacrifice, and love that transcends the boundaries of race and culture. 
Jesse Brown grew up in Mississippi during the Great Depression. Although his family was far from wealthy — his father was a warehouse worker and later a sharecropper, his mother a schoolteacher — Brown's parents instilled a dedication for learning and hard work. When he was a young boy, his father took him to an airshow where he was captivated by flight and set his sights on becoming a pilot. In the days before the U.S. military was desegregated, this was almost inconceivable. Brown nevertheless persisted. He worked to afford college and attended Ohio State University. Following graduation, he commissioned as an Ensign in the United States Navy and proceeded to flight training. Despite overt racism, Brown earned his wings of gold and made nationwide headlines when he became a Naval Aviator. 
Thomas Hudner grew up in New England and attended prep schools where he served as the captain of the school's track team while also playing football and lacrosse. Following the attack at Pearl Harbor, Hudner was inspired to join the military and was accepted to the United States Naval Academy. This was a deviation from the white-collar career his parents expected of him and some felt he was making a mistake. After graduation from the academy, Hudner served in several non-flying roles before deciding to enter flight school. He qualified as a Naval Aviator in 1949.
Despite their very different backgrounds, Jesse Brown and Tom Hudner became friends when they were both stationed aboard the USS Leyte in Korea. On Dec. 4, 1950 both partook in a six-aircraft exercise to support U.S. Marine Corps ground troops, with Hudner as Brown's wingman. During the flight, Brown sustained small arms fire which destroyed his fuel system and forced him to crash land in the snow behind Chinese lines. After the initial impact, he signaled to the rest of the flight that he was indeed alive. However, he was trapped by the crumpled airplane. In an action for which he was later awarded the Medal of Honor, Hudner intentionally crashed his airplane in the snow and ran to Brown. He tried a variety of ways to free him from the wreckage and extinguish the fire which followed the crash. A rescue helicopter arrived but was forced to leave almost immediately as night fell, taking Hudner with it. Jesse Brown is suspected to have died shortly thereafter. Hudner pleaded repeatedly to be allowed to return to free Brown, but his request was denied for safety concerns. 
Hudner served in the U.S. Navy for 23 more years. In 2013 he visited North Korea to attempt to recover Jesse Brown's remains, but was denied by authorities. He died in 2017 at the age of 93. 
Get Involved
Are you passionate about what we're doing? Let us know! We are always looking for volunteers to help us make our vision a reality. We'll help you find a way to volunteer that best suits you. We're excited to have you join the team!
T-Shirts
Fly For The Culture T-shirts are available at https://savageaviators.myshopify.com.  A portion of the profits from the Fly For The Culture T-shirts go directly to Fly For The Culture Inc.
Thank You
Whether you help through monetary donations, volunteering your time, or spreading our mission through word-of-mouth, thank you. We couldn't accomplish our goals without the help of supporters like you.